Weighted skipping suit
$74.99
Description
Try the Workout That's Built for Your Lifestyle, Experience a Workout You'll Actually Enjoy and Stick With.
No matter your fitness level, it's easy to get started.
The fun workout you can do anywhere, even at home.
Get the best workout results in a short time.
This simple piece of exercise equipment is all you'll need to get an incredible workout!
What You Get:
1* Premium Neoprene Hard Case
2* High-Performance Handles
1* 1/2 LB Heavy Rope
1* 1/5 LB Speed Rope
1* Speed Rope protector
2* Ropeless ball
2* Weighted-bar
Why jump rope for exercise?
A jump rope fitness workout is one of the most efficient calorie-burning workouts you can do. Burn over 1,000 calories in an hour of jumping compared to other common activities. Great for weight loss, Cardio, Crossfit, MMA, Boxing, and strength training gym&home fitness workouts.
Great Results, Less Time
The latest upgrade weighted jump rope, work more muscle groups than your average jump rope. Make jumping easy to learn for beginners, and offer a unique challenge for experienced fitness goers. This means you can experience a full-body workout anywhere to improve exercise efficiency and achieve weight loss goals.
Pro-Grade Ball Bearings:
Premium grade double 360° spin pro-grade ball bearings, Get super-fast, smooth rotation, without jamming, gives you a smooth jumping experience every time.
Fast Adjustable Self-Locking System:
Screw-free design. Inserting the rope will automatically lock-up Press the lock button to release the rope automatically. It only takes a few seconds to adjust the length of the rope precisely to suit the needs of people of different heights. Challenging the fitness status quo with family and friends of varying figure and enjoy a convenient, fun, and efficient fitness experience. Quick, convenient, and efficient.
Superior Rope Durability:
It allows for safe and durable jumping on any surface. Tangle-free steel wire rope design minimizes trip-ups and makes carrying + storing easy.
High-Performance Handles:
Slim handle is ergonomic design, non-slip, durable, and easy-to-grip. Using double-pro-grade ball bearings gives you a smooth jumping experience every time. Removable " weighted-bar" lets you quickly change between light and heavy handles for a more versatile workout.
Enhanced Muscle Engagement
The 1/2 LB heavy rope engages your major muscle groups in a whole new way. The heavy rope is built for more challenging cardio and fat-burning workouts. Each turn of the rope will increase your strength, perseverance, and mental toughness.
Built For Performance
The 1/5 LB speed rope is a high-performance jump rope set designed to elevate your speed, double under, and HIT workouts. Speed rope can provide faster and more precise rotation every time jump.
Fitness Workout Anytime, Anywhere
Our ropeless rope skipping makes jumping easy to learn for beginners and offers a unique challenge for experienced fitness goers. It can be widely used in small spaces such as offices, bedrooms, living rooms. Quiet jumping will not disturb people around and eliminate potential safety hazards.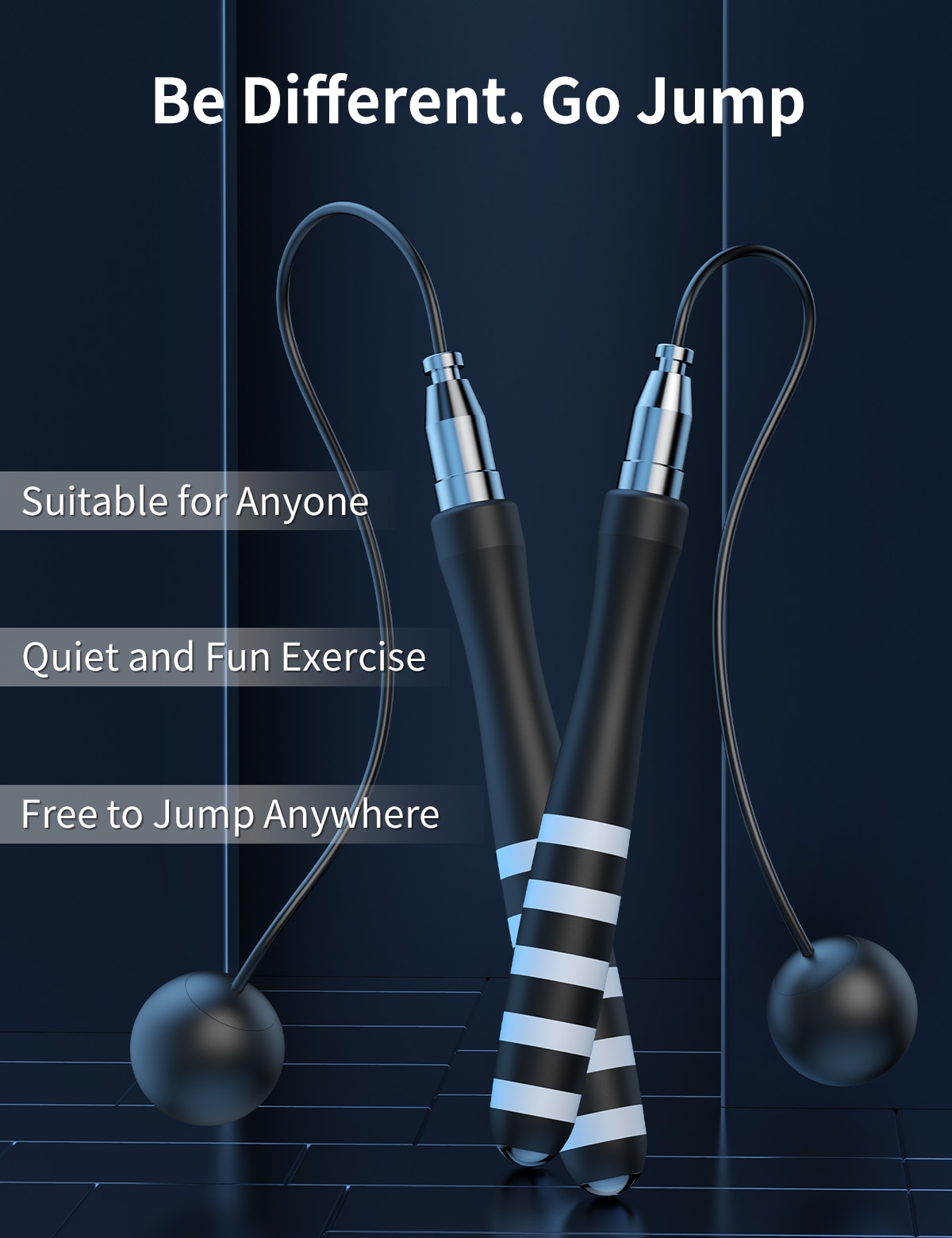 Casual Style Fashion Trend Bag
Premium neoprene hard case makes carrying and storing easy while providing comprehensive protection for Aceieon weighted jump rope set.
Black
Silver
Additional information
| | |
| --- | --- |
| Brand Name | MOGOLD |
| Department Name | Unisex |
| Origin | CN(Origin) |
| Model Number | Jump Rope |
| Type | Bearing Skip Rope |
| Material | aluminium alloy |
| Length | 3 m (Personal) |
| Function | Comprehensive Fitness Exercise |
| Color | Black Silver |
| Style | Screw-free design; Removable Weighted-Bar |
| Feature | Fast Adjustable Self-Locking System |
| Support | Drop ship |